Philips Zoom! DayWhite 9.5% HP 2.4ml X Single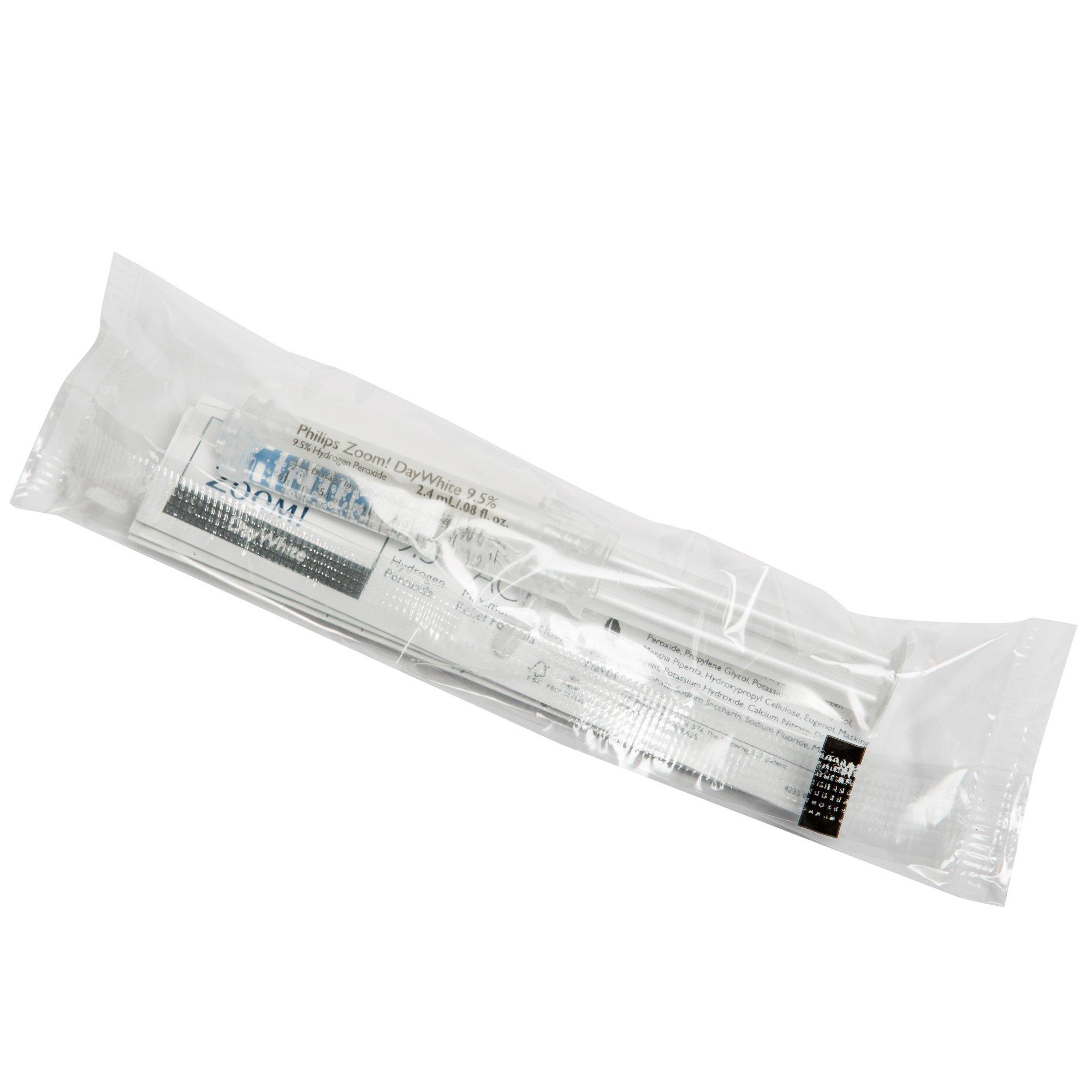 Description


Philips Zoom! DayWhite 9.5% Hydrogen Peroxide +ACP Take home teeth whitening gel.
Wear time: Recommended wear time is 5-10 minutes a day. Repeat as needed.
DayWhite ACP Hydrogen Peroxide. Patented "ACP" Calcium Phosphate technology with the proven effectiveness of Potassium Nitrate to naturally fill microscopic tooth surface defects, smooth the enamel and increase surface gloss and eliminates sensitivity. High viscosity gels maximize effectiveness. Sustained release for consistent bleaching
Nothing Works Faster!
ACP Amorphous Calcium Phosphate technology rapidly precipitates calcium phosphate crystals on the surface of and also inside dental tubules to substantially reduce transient sensitivity.
PATENTED DUAL BARREL SYRINGE Separates the calcium from the phosphate until the moment of use to assure stability, convenience and greater comfort.
AUTOMIXING NOZZLE Specially designed auto mixing allows you to create a fresh and equal blend of gel each time you whiten.
HIGH VISCOSITY GEL Provides better tooth contact, while remaining in trays throughout the whitening session.
Cool Mint Flavor
Dual Barrel Syringe Technology The advanced technology of the patented dual barrel syringe allows the Peroxide chamber to remain separate from the activator chamber until the moment of use. This allows the freshest blend of gel to be dispensed every time your patients whiten!
Patented Syringes for New Levels of Stability By separating ingredients in our patented dual-barrel syringe, our bleaching gels are assured the best stability without requiring refrigeration. In addition, separating calcium and phosphate in each barrel maximizes ACP's effectiveness.
Earn
0
reward points with this purchase
Add This Product To Your Wishlist